Customer Segmentation
Analysis Objectives and Sample Charts
Segments are better constructed by using analytics versus by gut feel or by happenstance. The segmentation process enables a company to classify their prospects into naturally occurring groups that share similar characteristics. Marketing programs can then be better designed with offerings and messages that meet these segments shared needs and wants.
Results from customer segmentation modeling enable our clients to know how to build marketing campaigns more effectively. The following illustration shows the results from an analysis of historic customer data depicting three clusters (segments 1, 2, and 3) representing the best segments in this case.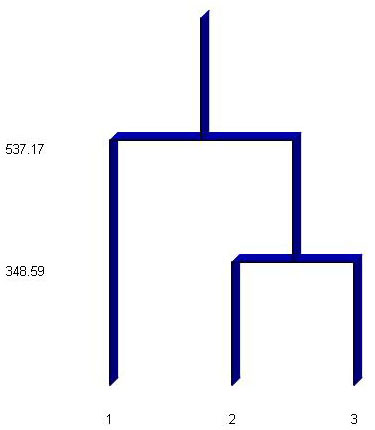 In the following example, the table shows that only prospect 4 of the 9 potential prospects shown below should be presented with the bonus offer. Also shown are some of the discriminate variables used.

Data Analyzed, Models Used and End Results Achieved
The following analyses and discriminators are used to build unique segments:
• We collaborate closely with our clients to identify customer survey or historical data that can be used to identify segmentation variables (needs, wants, values, preferences, etc.) related to the product/service being offered.
• Cluster analysis is applied to the data to build clusters based on the relative importance of these variables and the client's marketing vision; the most important customer attributes for driving sales are also identified in this process.
• Through a series of client working sessions, attributes which may include Demographics (age, income), Psychographics (lifestyle, interests), Behavior (spending patterns, media preference), and Geography (drive times, competitor locations) are selected.
• Discriminant analysis is run to define the combinations of these attributes that best define the clusters.
• The ideal number of clusters/segments and the best attribute descriptions are then determined.
• Segments are measured in terms of increased profit potential and are then prioritized.
• Marketing plan (messaging, media, product features) are fashioned based on what was learned and what would have the greatest appeal to the prospects and customers in each segment.
• We rely on what the numbers mean not just the numbers themselves.
Benefits Realized and Reference Case Study
• Understand what motivates customers and to direct marketing programs to more effectively generate sales.
• Offer customers a better fit between what is offered and what they value the most.
• Avoid unnecessary costs associated with designing and building models from scratch.
ACG pre-build models designed for the customer segmentation application give our clients a head start in getting to the results.
Click on the link for the case study entitled Improving Marketing Campaign Results from Better Customer Segmentation found in the Resource Center.