Marketing
Tools Used in Identifying Opportunities
Marketing is fruitful ground for performance improvement by utilizing data mining, predictive modeling, and optimization tools and techniques. The technology enables ACG to unlock the secrets behind your customer's characteristics, behaviors, preferences, and attitudes. This customer insight can then be used to do a better job of communicating and offering products and services that better resonates with their needs and wants.
In the current economic environment, it is also important for marketers to be as efficient as possible with their budgets. Optimizing budget allocations to drive increased revenue and profit will deliver better results with the same or reduced amount of expenditure.
Breadth of Analysis
The technology incorporates a wide variety of data sources to develop a more complete and current view of what customers are thinking and talking about. In addition, customer buying patterns, product and competitor likes and dislikes, and the influencers in their decision making process are all available information through our analysis process.
Areas of Investigation and Our Method of Analysis
There are a number of marketing areas (listed below) where performance improvement and analysis have proven to be beneficial with consistent results across a wide range of industries. The insights gained from these analyses and models have enabled our customers to make better, quicker and more profitable decisions.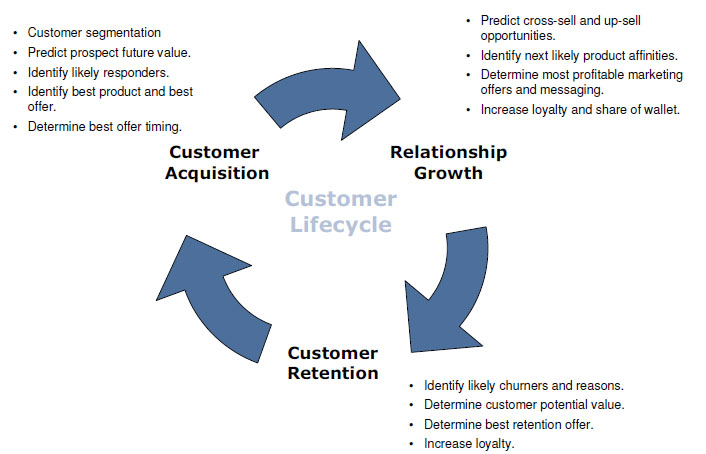 As a result of our client work, we have developed metrics and modeling tools to improve the performance of a number of marketing functions (sample list is show below). Because of our prior work, we are able to provide results faster because much of complexity of developing metrics, analyses and models have already be accomplished. As a result, these pre-built tools serve as a starting point for most new client work.
The following details our process:
• Determine the area(s) of need (accomplished by our understanding of your unique situation aided by our Diagnostic Tools),
• Identify what data is relevant, select the appropriate metrics and pre-built model or build a new one,
• Gain access to the data, run the models, and evaluate the solution alternatives through a proof of concept, and
• Conduct preliminary business case analysis for the solution, and develop an implementation plan.
What might take months to complete, will take only weeks, in most cases with our process. The savings over other organizations is often substantial. Once a solution is determined, ACG can also assist in implementation. Determining the appropriate Key Performance Indicators (KPIs) is also part of our recommended solution.
Benefits to be Realized
• Improve campaign results by using market segmentation and targeting
• Gain greater insight into customer behavior and needs
• Predict customer future actions
• Optimize marketing spend
• Predict which customer will churn and timeframes
Examples of Potential Improvement Areas
• Cross-sell and Upsell
• Customer Segmentation
• Customer Churn/Retention Marketing