Churn/Retention Marketing
Analysis Objectives and Sample Charts
Metrics and model building enables ACG to identify existing customers most likely to leave and one-time customers who won't return. The results from this identification and analysis will enable us to build rules or profiles, with a high degree of accuracy, describing those customers for whom aggressive marketing campaigns will need to be used to retain them and thus significantly increase revenue performance. Only customers with high potential future value should be targeted for special offers.
The following graph illustrates how product groups with the highest churn rates (ASAD 90, CAS30, and SOP10 & 20, in this example) can be portrayed in a typical analysis: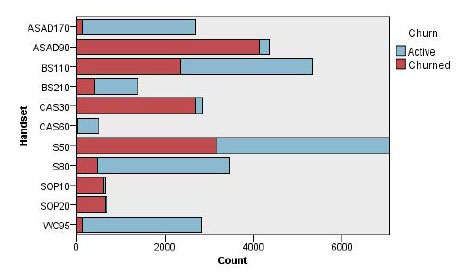 The results from a predictive model are shown below. The table reports on the success of the model by comparing those predicted to churn to those who actually left the company. The analysis was based on a certain criteria including the ones shown above.

Data Analyzed, Models Used and End Results Achieved
The following historic data, analysis and model building techniques are used to improve customer retention:
• Past customer account sales and behavioral data is used to identify those customers who have left or who have not returned; high-churn or non-return clusters are created.
• Rules and profiles (customer attributes) are determined to describe those customers likely to churn or not return.
• Predictive models are built to indicate the degree to which an existing or a one-time customer is similar to those who have departed or not returned.
• The right customer incentive (based on historical experience) is determined to be offered to only those customers identified as most likely to be leaving or not turning; customers not needing incentives are left alone (retains the full revenue otherwise lost to the incentive).
• Customers with little future value are left to churn.
Benefits Realized and Reference Case Study
The benefits that can be realized include:
• Increase revenue performance by retaining more existing customers rather than relying on the acquisition of new ones.
• Increase revenues by predicting which first-time customers won't return by offering them incentives to stick around.
• Avoid unnecessary costs associated with designing and building models from scratch.
ACG pre-build models designed for customer churn applications gives our clients a head start in getting to the improved results.
Click on the link for the case study entitled Reversing Customer Churn by Improving Retention Marketing found in the Resource Center.