Marketing: Web Analytics
How to Get the Full Value from Your Company's Website
In this whitepaper, we discuss how to use web analytics to enhance your customer's website experience. With the clickstream data from Google Analytics, Tableau Software is utilized to analyze visually your customer's current on-line activity – where they came from, what search terms were used to find the site, which pages they visited, how long they stayed, where they aborted the site, what actions they took, etc.
In addition, the analyses helps to identify the most influential pages, content most often viewed by visitors who become leads or customers, what actions or paths lead up to a visitor's clicking on the Contact Us button, etc. This information is invaluable in understanding how to change the site to realize the desired customer response. In addition, the decision to increase marketing expenditures aimed at improving site traffic, click throughs and resulting revenues can be based on the projected conversion rate increase derived from Tableau's trend and forecasting analysis tool.
The objective of this study is to demonstrate how these website analytical tools can be used to increase the results from your customer's website engagement. The whitepaper also presents a number of illustrations of the visual analysis of website historical data.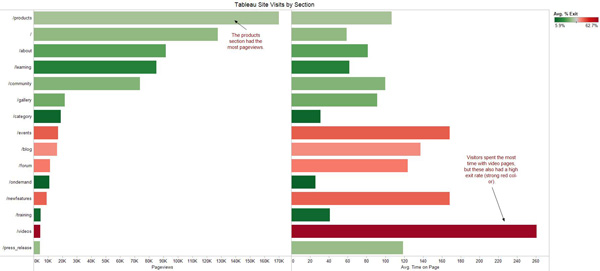 Request a Download
Stay Connected

Visit the ACG Blog

Connect with ACG
When you request this report, we will also update you with information on new whitepapers, research studies and more. If you no longer wish to receive our emails you can unsubscribe at any time by sending us an email message using the Contact Us page.
By submitting your email address, you acknowledge that you have read the Privacy Policy and that you consent to our processing data in accordance with the statement.
If you have any questions, please email us at creig@analyticsconsultinggroup.com