Analytics: ACG Viewpoint
Analytics – Businesses Holy Grail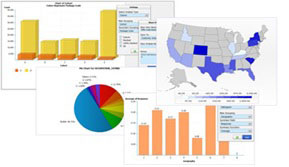 There is no question that the largest of companies are using some form of business analytics in their decision making. The question addressed in this whitepaper is should the small and medium-sized businesses (SMBs) also use analytics. In AGC's opinion, the answer is, unequivocally, Yes! However, recent surveys indicate that the SMBs face a steep learning curve in using and benefiting from analytics.
This whitepaper presents a strong case for making the effort to become an analytics-enabled business. One suggestion offered in this article is to learn from looking at the practices of organizations that are already employing the technology successfully. Along this line, the article provides illustrations of the output from a number of examples of analytics at work in the sales and marketing areas. These examples include:
• Campaign Performance Analysis
• Sales Pipeline Management
• Site Visit Analysis
• Email Campaign Analysis
• Customer Retention
The article also provides a five question benchmarking survey to help assess a company's level of analytical development and competency. The score from the survey can be compared to the maturity matrix provided to determine what stage the company is in. We also offer our suggestions on possible steps leading to the successful use of analytics in mastering informed decision making. While analytics may become the backbone of a company's decision making, decisions should not be based on analytics alone.
Request a Download
Stay Connected

Visit the ACG Blog

Connect with ACG
When you request this report, we will also update you with information on new whitepapers, research studies and more. If you no longer wish to receive our emails you can unsubscribe at any time by sending us an email message using the Contact Us page.
By submitting your email address, you acknowledge that you have read the Privacy Policy and that you consent to our processing data in accordance with the statement.
If you have any questions, please email us at creig@analyticsconsultinggroup.com