Marketing: Cross-sell and Upsell
Improving Customer Cross-sell and Upsell Marketing Results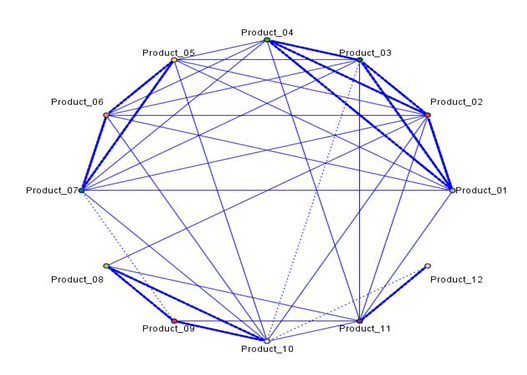 This research study demonstrates how a marketer can use predictive modeling to determine which products, services and product/service groupings their customers are most likely to purchase. Cross and up sell promotions are built around this information.
In this study, customer data from a telecommunications provider was used to illustrate how to identify purchasing relationships (which products or services are purchased together). The chart on the left depicts the product groups using customer purchase data (the thickness of the lines represents the number of customers making up these relationships — products 1, 2, 3 and 4 makes-up one of these groups). Predictive models are then built using product groupings and customer behavioral and descriptive information to determine which customers will be most receptive to cross and up sell opportunities.
The objective of this study is to illustrate how a company can increase revenue by using customer profiles generated by these models to predict which customers will buy a particular product within their product grouping. In addition, increased sales can result from targeting customers with cross and/or up-selling promotions that have not purchased all the products in their product group.
Request a Download
Stay Connected

Visit the ACG Blog

Connect with ACG
When you request this report, we will also update you with information on new whitepapers, research studies and more. If you no longer wish to receive our emails you can unsubscribe at any time by sending us an email message using the Contact Us page.
By submitting your email address, you acknowledge that you have read the Privacy Policy and that you consent to our processing data in accordance with the statement.
If you have any questions, please email us at creig@analyticsconsultinggroup.com